Ravi Shastri: Hardik Pandya's game awareness second to none, one of the cleanest strikers I have seen | Cricket News
MUMBAI: An unbeaten run of 10 consecutive wins in T20 Internationals came to an end on Tuesday for Team India when the trio of Mitchell Swepson, Matthew Wade and Glenn Maxwell stopped them from cruising to an 11th victory.
In fact, in the last 22 months since February 2019, India have lost merely four T20Is – a feat no other team in the world has managed to achieve – beating West Indies (twice), South Africa, Sri Lanka, New Zealand and Australia convincingly.
"And this time without its two premier T20 players," says coach Ravi Shastri, pointing to the absence of match-winners Rohit Sharma and Jasprit Bumrah.

At a time and in a season when T20 precedes every other format – considering back-to-back World Cups – Shastri says "it's a strong message that's been sent out" to the world. "A young team on its feet, making it count".
What's particularly noteworthy here is that close to six of these last 22 months were lost to a strict national lockdown in India, thanks to the unrelenting pandemic.
"That's the important thing," the coach says, looking back at the string of T20 wins and looking forward to another challenging Test series in Australia, where the idea and effort is to try and retain the Border-Gavaskar Trophy.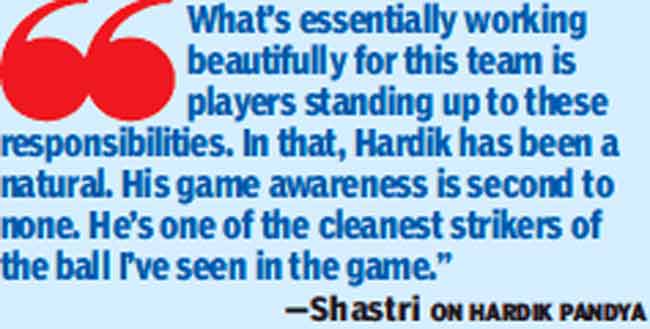 Shastri has been bowled over by the freshness that Hardik Pandya has brought on his return to the squad, T Natarajan's excellent debut and India's ability to make up for absences of some big names.
"Winning the T20s without Rohit and Bumrah was a huge achievement. What's essentially working beautifully for this team is players standing up to these responsibilities. In that, Hardik has been a natural. His game awareness is second to none. He's one of the cleanest strikers of the ball I've seen in the game," he says.
Shastri believes Natarajan earning the India cap and going on to prove himself so wonderfully well on debut is "a great story".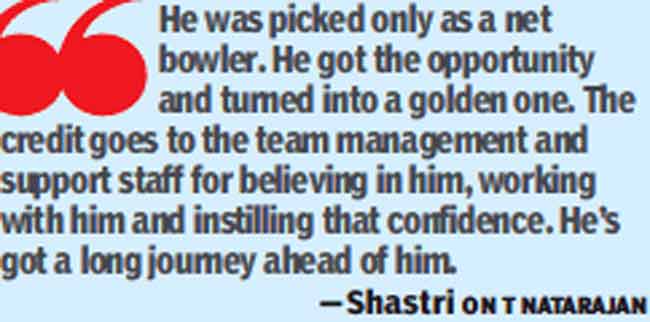 "That's because he was picked only as a net bowler. He got the opportunity and turned into a golden one. The credit goes to the team management and support staff for believing in him, working with him and instilling that confidence. He's got a long journey ahead of him," the coach says.
Over to the pink ball now, and eventually red.
"The three-day game (warm-up) is a good thing to happen. It'll give our players an opportunity to experience it and see what happens with the ball at what times. That's the crucial bit," says Shastri. "It's new to everybody. We haven't really played anything much (with the pink ball)," he says, clearly underlining that the Test match under lights against Bangladesh at the Eden Gardens last year won't really count.
"Until now we've only been told it moves a lot in the evening. We will find out," he says.

Adelaide has for the longest time been India's favourite venue Down Under. With Virat Kohli available for the first Test and players like Bumrah well rested, it'll be a great opportunity for India to begin well.
"We rested him because we know he's got a big load coming in. We've rested players simply because it's been continuous cricket and that's how it's going to be. The same reason the Aussies probably rested Cummins," says the coach, referring to the all-important Test series that's the ultimate objective for both teams.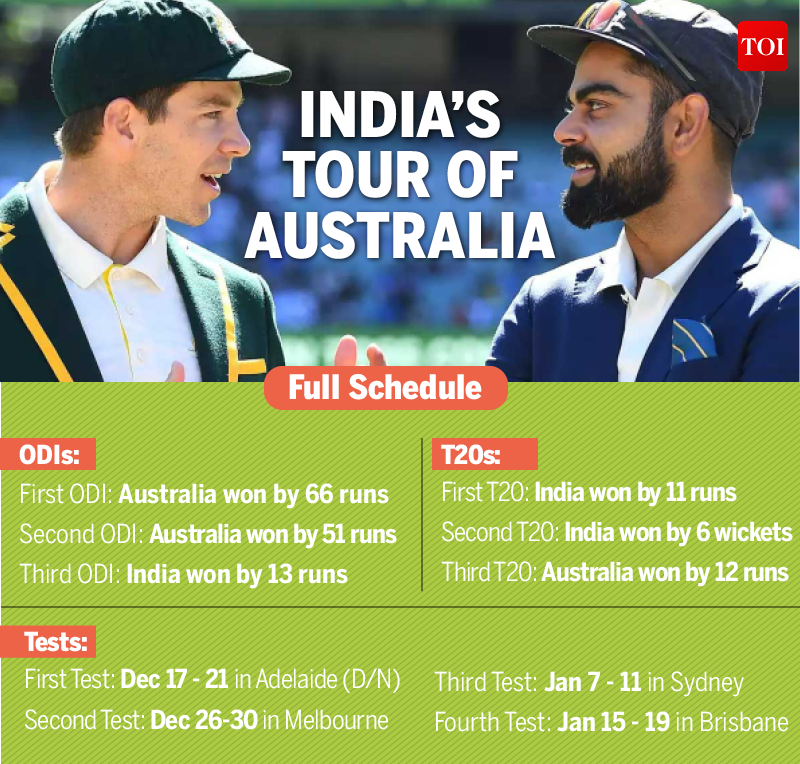 In that, the lockdown, says Shastri, was a nightmare for the Indian team unlike the Australians who were free to move around in their country.
"If you remember the lockdown in India, nobody could move out. Barring players who were lucky to be in smaller towns, with large houses, who could've had access to private open areas. But in cities like Mumbai, Delhi – everybody was locked inside their houses or apartments. It was extremely torturous," he recollects.
Compare that to the Australians, who were free to go out within their respective cities, use the parks and grounds, be out in the open, and it served them well. "They also landed up in England for the white-ball series and there was exposure. Whereas, until we landed here, it was only the IPL that allowed our players to enter the field," Shastri adds.
Bumrah, for instance, bowled the most number of overs in the IPL, more than the others because he didn't miss a single game and played the final. "That was a total of 64 overs – the maximum any Indian bowled, before we arrived here," the coach says. Mohd Shami, the workhorse in the Indian pace attack, bowled 56.
It's not been easy at all.
"When I started the team meetings – after landing in Australia – I had only one thing in mind: empathy. It was a strict 14-day quarantine, and we were locked up in our rooms. The only time we would get to see each other was when warm-ups gradually started. We knew it was going to be tough. After the ODIs, I told the players 'it's okay, take it easy. But be observant. Getting into the mix of it was important. By the third one-dayer, things got calmer," he says.
Shastri is confident India will walk out with the best available 11 on the 17th and the two warm-ups between now and then will stand them in good stead.
Hits: 0