Japan-Impressed Spiced Chips : Japan Frito-Lay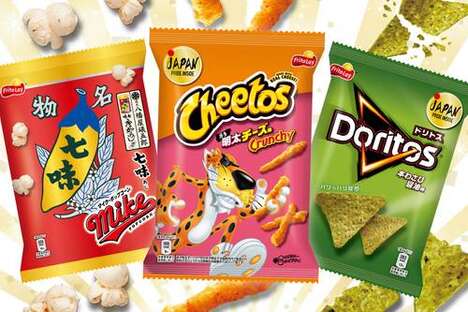 Japan Frito-Lay launches three new snacks infused with Japanese spices within the type of Cheetos, Doritos, and Mike's Popcorn. These draw inspiration from Japanese spices, with a cultural palette that spotlights Mentaiko, Wasabi, and Shichimi Pepper.
Though Mentaiko will not be a spice, the flavour is filled with warmth for a robust punch. Mike's Popcorn boasts the 'Yawataya Isogorō Shichimi' taste. This can be a 285-year-old spice that's described to have a robust dried ginger style and elevated aromas. The corn chips, Doritos, are a Wasabi taste, and at last, Mentaiko coats the Cheetos. All three choices are manufactured at particular locations all through Japan, chosen primarily based on the specialization of the respective flavors. The brand new alternatives are set to launch formally later this 12 months within the Summer time.
Picture Credit score: Japan Frito-Lay Ltd.
Hits: 0